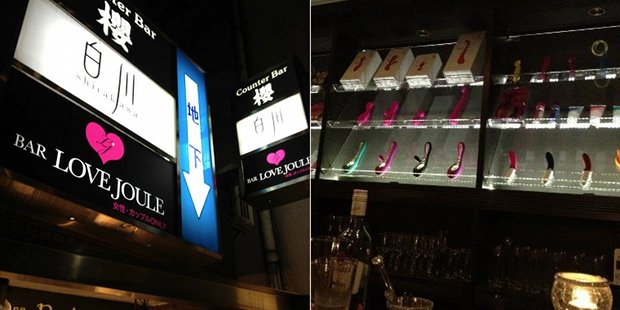 There now exists a bar that reflects a feminine penchant for self-love, decorated top to bottom with dildos. You heard me.
A tavern where the walls are lined with dildos instead of bottles of liquor, and ladies are free to come together and discuss how they like to touch themselves has opened in Fap-an, reports Jezebel. Proprietors are somewhat soft-balling the venue in its ad campaign, calling it the first "love and sex bar dedicated to women."
"Once they take a seat, customers are able to experience a pleasant place in which they can openly discuss masturbation," says proprietor Megumi Nakagawa. "Since most people view female masturbation as something of a mystery or taboo, it is not a usual topic at typical bars."
Delicate marketing is a good move too. You don't want to just come out and admit what this place is in a country that hosts Pink Salons and schoolgirl panty vending machines.
In any case, the female masturbation bar is called Love Joule, and it is located in the Shibuya district of Tokyo. Its clientele? Women who work in Japan's sex industry. Men aren't allowed to go into the bar at all unless they're accompanied by a woman, but a male ban is probably far more apropos since the website says that the place is described as "perfect for girls-only discussions or a date."