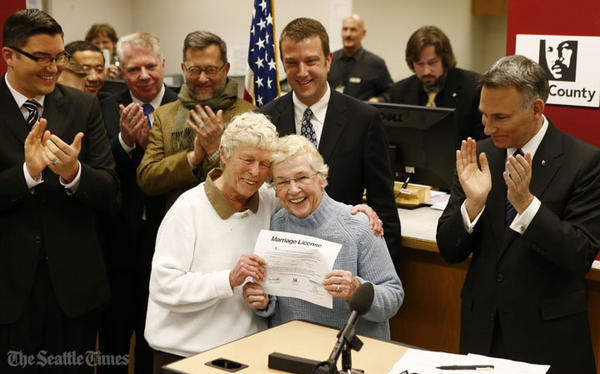 The first marriage licenses in Washington state for same-sex couples were handed out Thursday morning.
King County Executive Dow Constantine signed the first marriage licenses just after midnight. The first couple was Jane Abbott Lighty and Pete-e Petersen of West Seattle, co-founders of the Seattle Women's Chorus.
By 7 a.m. Thursday, 300 licenses were issued. The county set a new single-day record.
"Tonight you are making history," said Constantine to the first group of couples at a special midnight ceremony.
"To have our 35-year loving relationship publicly honored and celebrated and have this be a legal marriage means everything to both of us," said Lighty, 77.
"In our marriage ceremony Sunday evening, both of us will be honored and privileged to represent not only ourselves but the greater community," said Petersen, 85.
The couples who were part of the special midnight ceremony included Seattle columnist and gay rights advocate Dan Savage and his partner, Terry Miller.
"I was just so proud to be in that line and so proud of all the couples, most of whom have been together longer than my partner and I have been together," said Savage.
The line started at 4 p.m. Wednesday. As it grew, volunteers distributed roses and a group of men and women serenaded the waiting line to the tune of "Going to the Chapel."
Thurston County issued 15 licenses at midnight. Pierce County said it would offer extened hours at its licensing division for the next four days.
On Wednesday, Gov. Chris Gregoire signed into law a measure legalizing same-sex marriage in Washington state. The law was passed by the state Legislature earlier this year, but a referendum sent the measure to voters, who approved it last month.
Because the state has a three-day waiting period, the earliest that weddings can take place is Sunday.