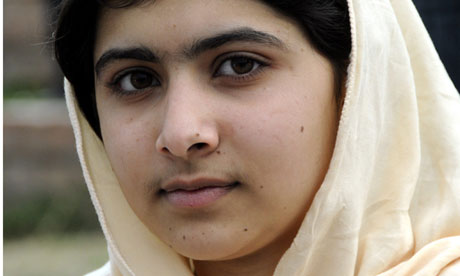 A Pakistani schoolgirl shot by the Taliban because she campaigned for the right of young females to an education is en route to the UK for specialist treatment.
Malala Yousafzai, 14, was shot in the head last Tuesday in an attack that prompted widespread revulsion, in Pakistan and abroad. It also raised fresh questions about the state's ability to tackle militancy. Malala's life was saved by neurosurgeons in a Pakistani military hospital and she has since been in intensive care.
Doctors have recommended she be transferred to a UK centre "which has the capability to provide integrated care to children who have sustained severe injury", a Pakistani military spokesman said. The flight left Rawalpindi on Monday morning. She is travelling with an army intensive care assistant on a specially equipped air ambulance leased from the UAE and will be treated at an NHS hospital in the UK.
The Pakistani government is bearing the costs of transportation and treatment. The UK foreign secretary, William Hague, said: "Last week's barbaric attack on Malala Yousafzai and her school friends shocked Pakistan and the world. Malala's bravery in standing up for the right of all young girls in Pakistan to an education is an example to us all.
"Malala will now receive specialist medical care in an NHS hospital. Our thoughts remain with Malala and he family at this difficult time."
The Foreign Office said the move followed an offer by the UK government to assist Malala in any way that it could.
Malala was shot in the head and neck while she sat with classmates on a school bus as it prepared to drive students home after morning classes in Mingora, a city in the Swat valley, where the army mounted major operations in 2009 to crush a Taliban insurgency. She had become famous after writing a blog in 2009 for the BBC Urdu service about life under the Taliban insurgency.
A Taliban spokesman issued a statement claiming it was obligatory to kill anyone "leading a campaign" against Islamic law and said it would again attempt to kill her if she recovers from her injuries.
Police have arrested at least three suspects in connection with the attack but the two gunmen who carried out the shooting remain at large.
The biggest rally yet showing solidarity with Malala was held in the southern city of Karachi on Sunday but the response to her shooting has been relatively low-key in Pakistan compared with last month's demonstrations against a film produced in the US that denigrated the prophet Muhammad. Government officials have condemned the attack but refrained from publicly criticising the Taliban by name over the attack, in what critics say demonstrates a lack of resolve against extremism.