A fertiliser factory in Texas exploded in a massive fireball, killing between five and 15 people and injuring at least 160, police say, amid fears those figures could still rise.
Dozens of homes were destroyed, more than 130 people were evacuated from a nearby nursing home, and at least 100 patients were admitted to hospitals following the massive blast at the plant in the town of West, outside Waco.
"It's like a nuclear bomb went off," West Mayor Tommy Muska told CNN.
There were conflicting reports about the death toll in the chaotic aftermath of the explosion in the southern US state, which witnesses said sent a huge fireball into the air.
A death toll of up to 60-70 was initially reported by KWTX television, citing the director of West emergency services, George Smith.
Keith Hopkins, an administrator with Providence hospital in Waco, told AFP that emergency personnel in West had also given him the figure of 60 to 70 fatalities.
\

A spokesman for the Texas Department of Public Safety, D L Wilson, told reporters he could not "confirm or deny" the figure, saying: "We have confirmed fatalities. The number is not current yet. It could go up by the minute."
Mr Muska said that he didn't yet know how many people had been injured or killed. He said buildings in a five-block radius from the plant were severely damaged by the explosion.
Mr Muska said that volunteer firefighter had responded to a fire at the West Fertisliser plant about half an hour before the explosion. Muska says he's a volunteer firefighter himself and his helmet was knocked off when the explosion tore through the plant.
Glenn A Robinson, the chief executive of Hillcrest Baptist Medical Center in Waco, said that his hospital had received 66 injured people for treatment, including 38 who were seriously hurt. He said two helicopters carrying more patients were on their way to the hospital.
The United States was already on edge in the wake of Monday's deadly twin bombings in Boston, and a scare in Washington over mail apparently laced with the poison ricin sent to President Barack Obama and a US senator.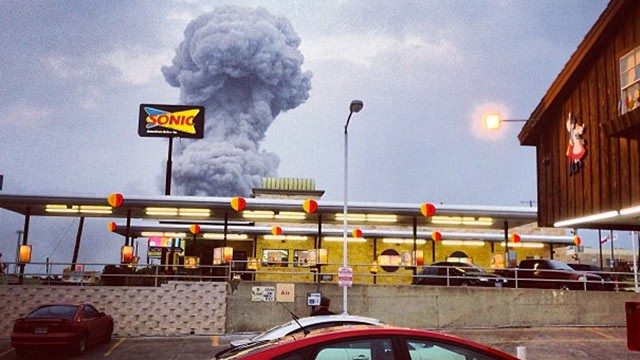 The huge blast also came just before the 20th anniversary on Friday of a deadly confrontation in Waco between federal authorities and heavily armed members of a religious group, the Branch Davidians.
The explosion at the West fertiliser plant occurred just before 8.00 pm (12.00pm AEST), Waco Assistant Fire Chief Don Yeager told AFP by phone.
The cause was not immediately known but he said it was an anhydrous ammonia explosion.
Power and gas has been cut to some areas of the town as a precaution, Waco police sergeant W. Patrick Swanton told CNN.
Mark Felton, executive director of the Waco-based Heart of Texas Red Cross, told AFP that people were "flowing into the shelters" set up for evacuees and those whose homes were destroyed, without providing a specific figure.
"There are hundreds of emergency response vehicles lined up," Mr Felton said.
Witnesses said they were stunned by the sheer force of the blast.
"It knocked me down, it knocked me back. It was like the whole road just picked up," resident Cheryl Marich, whose home was destroyed and whose husband was fighting the blaze, told CNN.
There were growing fears that a second fertiliser tank at the plant could explode, widening the disaster that Mr Muska said had leveled up to 80 homes in the small Texas town of 2500 people.
The mayor told CNN that six or seven firefighters who had attempted to tackle the blaze were unaccounted for.
"It exploded just like the Oklahoma City bomb," Jason Shelton, a clerk at the Best Western Czech Inn in West, told The Dallas Morning News.
"I live about a thousand feet from it and it blew my screen door off and my back windows. There's houses levelled that were right next to it. We've got people injured and possibly dead."
The Oklahoma City bombing of 1995 claimed 168 lives.
Another witness, Bill Bohannan, told the Waco Tribune-Herald: "It knocked us into the car... Every house within about four blocks is blown apart."
Crystal Anthony said she and her daughter were almost knocked down several blocks from the explosion.
"We've been moving patients out of the nursing home and taking them to the football field and gymnastics building on Davis Street," she added.
In the 1993 Waco siege, following a 51-day standoff, the group's compound burned down after an assault was launched.